"Practical suggestions, sympathetic understanding, a clear style, and user-friendly organization add to this above-average manual for maximizing personal happiness."
― Publishers Weekly, Feb. 16, 2004




When we feel overwhelmed, stuck, or dissatisfied, we often yearn for a heart-to-heart no-nonsense conversation with someone we trust. This book offers straight talk on how to turn your life around and shows how to create powerful self-motivating conversations on your own whenever you need them.

In this engaging "How To" for increasing self-awareness and self-acceptance, bestselling author and practicing therapist Dan Neuharth shows how to detect and overcome the psychological "blind spots" which can undermine your relationships, health, success, and happiness. You'll learn how to transcend paralyzing thoughts like "I can't" or "I don't want to" and vanquish tyrannizing beliefs like "I shouldn't" or "I must."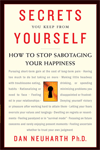 Aimed at the heart of your counterproductive habits and patterns, this book offers dozens of tools and insights powerful enough to break through the stubborn and complex phenomenon of denial. Self-sabotaging denial is akin to keeping a beach ball submerged; it requires constant energy. By discovering how and why you get in your own way, you free tremendous energy to move forward on your unfinished projects and unlived dreams. Getting in your own way is not a sign of weakness, nor does it mean that you're a bad person or that there's something wrong with you. The good news is that self-inflicted losses are avoidable. This book shows you how to bring greater honesty and authenticity to your one-and-only 24/7 relationship.
Written in a compassionate tone and easy-to-follow format, the book contains fascinating case studies, powerful exercises, and straight talk to help you overcome counterproductive habits including:
Procrastinating
Overindulging in food, drink, or spending
Ignoring or minimizing problems in relationships, finances, or health
Taking on too many tasks
Holding unrealistic expectations
Acting impulsively without considering the consequences
Getting distracted or losing your focus
Feeling stuck or overwhelmed when starting an important task
Having difficulty believing in yourself or your dreams
Dwelling on regrets or resentments and feeling unable to move on
Skipping exercising
Overruling your intuition or feelings
Obsessing over a trip, purchase, or other decision
Feeling as though you don't deserve what you most desire

This thought-provoking exploration of how and why we lose touch with our "best" selves offers features including:
A surefire Litmus Test for detecting self-sabotage in its earliest stages
Ten proven techniques for "fear-busting"
Foolproof ways to identify and correct the "fuzzy math" we use in justifying self-defeating choices
An "Inner Character Detector" to illuminate potentially counterproductive coping styles
A "Hidden-Self Portrait" to reveal hopes and fears which may be influencing you without your knowledge
"Psychological wake-up calls" to help you create and maintain a healthy balance among your mental, physical, and emotional selves
SECRETS YOU KEEP FROM YOURSELF will help you move beyond fears which have stopped you in the past, bring more of yourself to each present moment, and craft a future of greater contentment, self-acceptance, and honesty with yourself.

Read an Excerpt from Secrets You Keep From Yourself
View the Book's Table of Contents
To Order Secrets You Keep From Yourself:





Read
An Excerpt